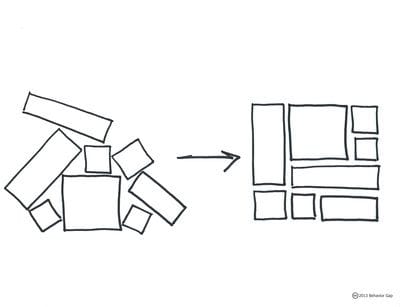 What a real financial advisor does - we take the pile and turn it into a plan.
"A few years ago, I met with a super-nice lady I'll call Maxine. Her husband had passed away, and she needed help. She had pile of paperwork that represented her financial life, but had no idea what it meant. She came into my office with a shoe box stuffed full of tax records, trust documents, and financial statements.
I remember the box. I remember the pile of papers. And I'll never forget the anxiety she brought with them.
After we spent some time together, it was clear that she had plenty of money. I think she knew it, but because everything was so unorganized, she was worried.
Last November, I started thinking about how many of us share this same anxiety.
Because most of us are so busy, it's rare that we get the time to think about all the stuff that makes up our financial lives in a comprehensive way.
So we collect stuff. At first it might just be the first managed fund we hear about, but soon we have old Super accounts, a few shares of some utility stock we inherited from our grandparents, and an old trust document. Over time, we end up with a giant mess, and it becomes clear that nothing works together in any discernible way.
Real financial advice is the process of bringing order to that pile of stuff. One part of that process-portfolio design-focuses on making sure our investments not only work together, but also match our goals."
Carl Richards - Behavior Gap
I think it just might be the perfect way to illustrate what we do for people. We take unorganized stuff and transform it into a cohesive plan. However, it's about more than the portfolio. It's the process of helping people clarify their values and goals, making sense of them in the context of their lives, and then designing a plan to get them there. The entire process can be represented by this image, which I call Portfolio Design.
This sketch has become the best shortcut I know for explaining what a real financial advisor does. We take the pile and turn it into a plan.
Now more than ever you need help with your financial planning, budgeting in these volatile times. Parkside InvestorPlus specializes in understanding your needs through thorough analysis of your goals and aspirations and the creation of a financial blueprint to keep you on track. And your first consultation is absolutely complimentary with no obligation.